Well, today started out alright... It's the beginning of Easter Break today, so I was feeling rather cheerful at the prospect of having a few days off. Except after I showered and got dressed (and snapped a few pictures), I got the news that I was turned down for a job I was really hoping to get. Lame.
Anyway! I'm applying to some other places today, and in light of that, I have changed clothes to try and brighten my spirits a little. I took a vintage gown and irreverently hacked off a foot of fabric from the bottom. O:
First outfit: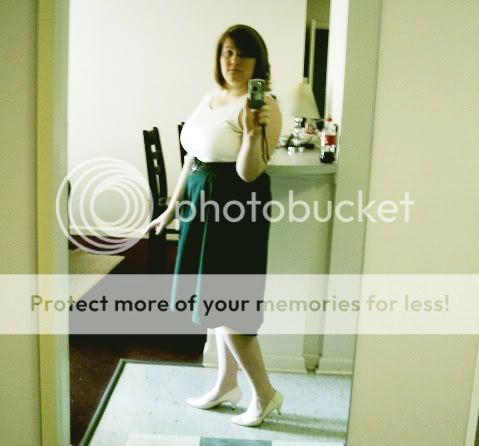 This whole outfit is thrifted... and cost a total of $7. But I opted for something a little lighter and more cheerful after yucky news.
Second outfit:
Mutilated vintage gown: Thrifted
Gold bow belt: ON
Frilly shrug: Thrifted
Cognac brown cut-out flats: Payless